What is a Smorgaschord?
[ smorgaschord \'smOr-gas-kord\ n. 1: a variety of tones and rhythms spread out on a buffet table; 2: a group of entertaining singers of a-cappella music who enjoy a wide range of styles and can often be found near a buffet table. ]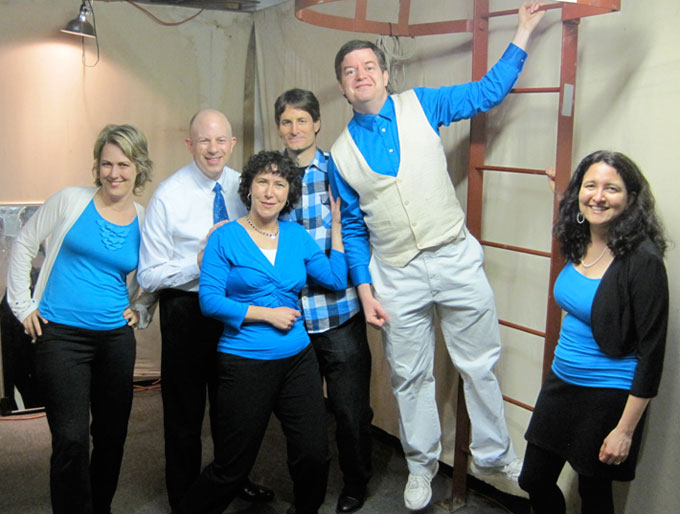 Ingredients
Alexandra Langston (photo coming soon!), Bill Anderson, Mia Whitfield, Larry Hamel, Harold Zable, and Patti Schank, backstage at the Palace of Fine Arts in San Francisco (2011) during the Bay Area Harmony Sweepstakes competition. We won third place and Harold received the best arrangement award for Symphony no. 5! Our soprano Valerie has a rockin' Irish/Celtic band, too.
What Others are Saying
"Thank you for the fabulous performance last night. I heard rave reviews from everyone that I spoke to. Hopefully we can coordinate some dates for the event next year." - Michele, Mountain View Thursday Night Live
"Musically, this is a show of astonishing complexity and quality, all packaged in a sparkling and humorous presentation which they make look easy. The hour goes by in a flash--everyone is energized during and after the performance. I don't want it to end, even though I have to drive 75 minutes just to get back home!" - Henry, Bread and Roses
Hire us for your event on the San Francisco Peninsula.
Upcoming performances
I really enjoyed your group - you were all spectacular! - Cathy "a fan" Foxhoven, Burlingame on the Avenue Coordinator
Tweets by @Smorgaschord


Follow us on facebook or twitter to learn about upcoming performances.