Performances
We've been known to perform at festivals, weddings, corporate events, holiday parties, coffee shops, well-lit street corners, and supermarket checkouts. Contact us if you have an idea for a gig in the San Francisco Bay Area.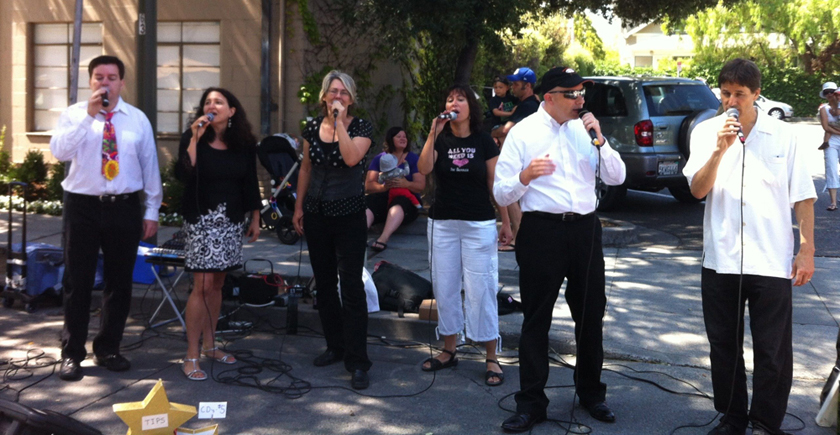 Palo Alto Farmer's Market. Harold, Patti, Val, Mia, Bill, Larry.
See examples of our past performances below (all in the San Francisco Bay Area, California).
Public events (festivals, coffee shops, competitions, etc.)
Freewheel Brewing Company, Redwood City
Dana Street Roasting Company, Mountain View
Burlingame on the Avenue Art Festival, Burlingame
Palo Alto Farmers Market, Palo Alto
Acaville.com radio interview, San Francisco
Thursday Night Live, Mountain View
Cafe Van Kleef, Oakland
Sequoia High School International Festival, Redwood City
BackYard Coffee Co. (formerly Sportivo Coffee Bar), Redwood City
Mountain View Art and Wine Festival, Community Stage, Mountain View
2011 Bay Area Regional Harmony Sweepstakes, San Francisco (won 3rd place and best arrangement awards, 2011 competition)
Fourth of July Parade, Redwood City
Harvest Festival, Redwood Church, Redwood City
Miss Redwood City Pageant, Redwood City
Marilyn Scott's House of Bigger Girls, East Palo Alto
Linfield Oaks Block Party, Claremont Way, Menlo Park
Triton Museum of Art, Santa Clara
Redwood City Farmers Market, Redwood City
West Coast A Cappella Summit, San Rafael (Showcase concert & Master's class)
Red Rock Coffee, Mountain View
The Center Theater, Fremont
Borders Books, Music, Movies, and Cafe, Milpitas
Thomas Fogarty Winery, Woodside
Outdoor amphitheater, Mountain View Center for Performing Arts
Private events (weddings, holiday parties, etc.)
Kentucky Derby Party, San Carlos
Megan and Sanjeev's wedding, Kohl Mansion, Burlingame
Thelan's Private Party, Mountain View
McEwen's Private Birthday Party, Redwood City
El Camino Hospital, Mountain View
Kappa Kappa Gamma Holiday Party, Los Altos
Kirsten and Jim's wedding, San Mateo
San Mateo County General Hospital, San Mateo
Incyte holiday party, Palo Alto
Retirement Inn, Burlingame
Ching Ching Chorus Spring Retreat, Scotts Valley
Department of Nuclear Engineering Holiday Party, U.C. Berkeley
SRI International Holiday Party, Menlo Park
Bruce and Meredy's Wedding, Saratoga
Fellowship of Humanity, Berkeley
Soundtrack for title sequence of a feature film with Potrero Post, San Francisco
Benefit concerts
Our first concert program (August, 2001) by Mike Pogue, inside and out.
Hire us for your event!
Videos
Our first-ever music video project, born out of a global pandemic: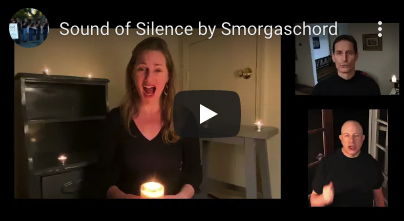 And some live performance videos from longer ago:

See our
YouTube channel
for more
Fans
Want to hear about upcoming performances? Follow us on facebook or twitter.
Remixes
Our youngest fan remixes "You're the Inspiration"